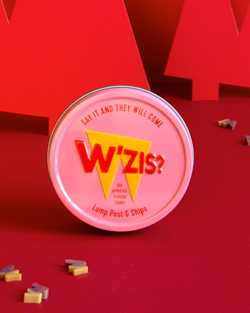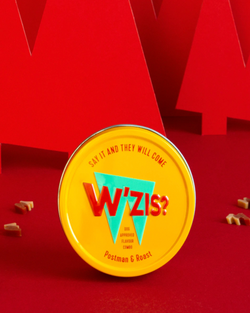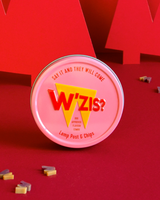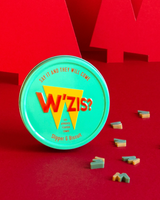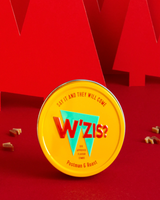 W'Zis?
W'ZIS? LAMP POST AND CHIPS DOG TREATS
When you are out for a walk, what do you hear people say when they call back their dog? What's this..... 
Say it quickly and you've got this - W'zis? is a sweet potato based dog treat that they love. 100% natural, grain-free, plant-based treats, they have a firm texture to prolong the eating time and promote teeth cleaning. But you can afford to be generous; these healthy morsels only contain 1 calorie per treat, perfect for training. 

What do they taste like?
There are 3 uniquely named flavours, each with their own identities.
Postman & Roast
W'ZIS pooch Greta can't get enough of the postman and lives for Sunday roasts. You won't find a whiff of a postman in here, more like something akin to smokey (vegan) bacon. The rest is all vegetable goodness; sweet potatoes, pea, tomato, pumpkin and sunflower seeds.

Slipper & Biscuit
Save your slippers and consume fewer biscuits — let this treat fill the void. Slipper & Biscuit's green and yellow colours are flavoured with pooch favourite peanut butter. The contrasting green is the natural result of adding broccoli and breath freshening apple. 

Lamp Post & Chips
After some consideration, the W'zis? team decided not to mirror the unique aroma of lamp posts. These have a more gentle flavour profile. The splendid blueberry colour comes from the inclusion of purple sweet potato.