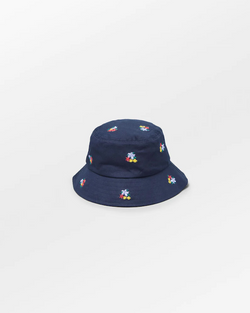 Becksondergaard
Becksondergaard OLLIE BUCKET HAT - NAVY FLORAL
The Ollie Striba Bucket Hat is a summery 100% cotton bucket hat with embroidered flowers. The bucket hat is available in two sizes.


Sizes 
Medium / Large - 58 cm around head 

Extra Small / Small - 56 cm around head 
About Becksondergaard
Founded in 2003 by Lis Beck and Anna Sondergaard, Becksondergaard is an accessories brand with a superb collection of fun and bright scarves, bags, hats, hairbands and socks that add a pop of colour to any outfit.