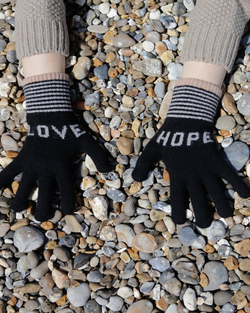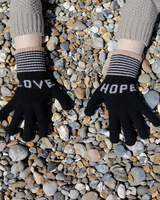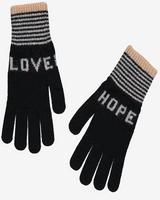 Quinton Chadwick
QUINTON CHADWICK LOVE HOPE GLOVES IN BLACK AND GREY PEBBLE COLOURS
Black with pale grey Love and Hope words and stripe cuff with a camel edge detail.
This year Jess added a third colour and a striped cuff to their signature LOVE HOPE gloves - one size fits all due to the stretchy nature of knitting.
Made in Scotland.
100% softest lambswool spun in Yorkshire.
One size only.
DESIGNED IN BRITAIN - MADE IN SCOTLAND - WORN WORLDWIDE
About Quinton Chadwick
Jess Quinton and Jane Chadwick use British mills for their yarn supplies, always 100% natural and biodegradable fibres. Mostly Lambswool or Merino and they also use Recycled Cashmere when it is available. They like to combine traditional knitting techniques with new technology to make a more sustainable product. Their seamless hats and cut edge scarves are cleverly designed to ensure there is zero yarn waste in the production process. 
Today QUINTON CHADWICK products are recognised for their unique colour combinations; their modern take on traditional patterns, the sustainability of their British production and the quality of their craftsmanship.