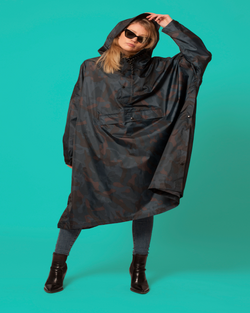 RAINKISS
RAINKISS STORM CAMO WATERPROOF RAIN PONCHO
We all know how much it rains in the UK so we've searched for that thing you can throw on and transport easily just in case it rains. Well its a poncho that is 100% waterproof, they even have taped seems - perfect for dog walking, cycling and just being out and about. 
Rainkiss are a brilliant environmentally conscious brand. They take old bottles and single-use plastic and turn it into a fabric that is 100% recycled RPET, a strong, durable and recyclable material that is made into water resistant ponchos. It takes 20+ Recycled PET bottles for every Rainkiss rain poncho and the fabric is 100% Oeko-tex certified recycled polyester.
Rainkiss rain ponchos are easy to carry, easy to wear and offer an inclusive one-size fits all design. Big or small, Rainkiss rain ponchos will fit and look great. This one is a unisex look with black and grey camouflage.