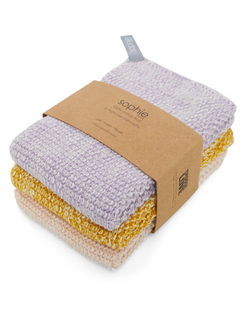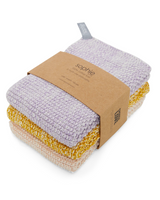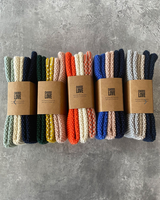 Sophie Home
SOPHIE HOME REUSABLE DISHCLOTHS - LILAC SPACE DYE
Who'd have thought you could love a dishcloth! These 'space-dye' dishcloths mix two different colour yarns, and are wound together in the knitting process to create a marled effect, giving the fabric a little added interest and depth; we're really pleased with the results and think you'll love them too!
Cotton knit dishcloths are a bit joyous all round - they don't smell over time, they can be washed alongside your laundry, they squeeze and dry out quickly and easily, they don't deposit microscopic bits of plastic that find their way into our oceans, and when you're done with you cotton knit dishcloths, you can chop them up and compost them. 
Materials: 100% cotton knit
Dimensions: Each cloth 28 x 28cm
Care: Machine washable from 30°
Colours: Lilac, citrus, blush pink, ivory
About Sophie Home 
Working from her studio in South East London, Sophie designs bold and contemporary designs that are crafted to be affordable for all. Her use of shape, texture and colour result in a collection of the softest throws, cushions and dishcloths, all knitted with 100% cotton.