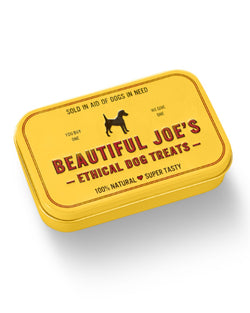 Beautiful Joe's
BEAUTIFUL JOE'S ETHICAL DOG TREAT TIN
Stylish and practical, these great tins will easily slip onto a trouser or shirt pocket and each tin comfortably holds around 30g of Beautiful Joe's ethical dog treats. 
Beautiful Joe's has created delicious air-dried, pure liver, natural dog treats and a funky compact tin, in which to keep treats fresh and readily available! But buying Beautiful Joe's is also buying better for the animal community because every time a packet of treats is bought from Barkened, Beautiful Joe's gives another packet away to dog rescue centres. 
If you follow us on @instagram you can vote for the dog rescue centre you would like them to go to. 
So far Beautiful Joe's has given 92,209 packets of treats to over 243 rescue centres, which use the treats to help train and rehabilitate rescue dogs so that it is easier for them to find new, forever homes.    
Tin – weight 50g, size 9.5cm x 6cm x 2cm