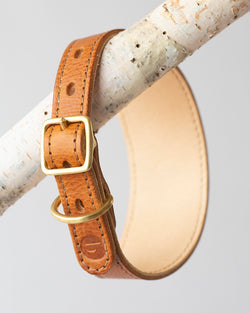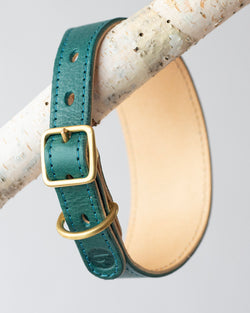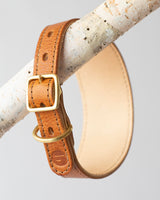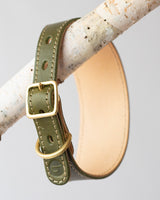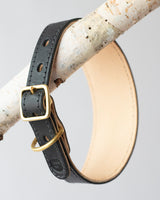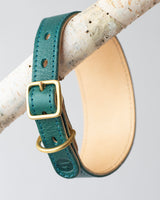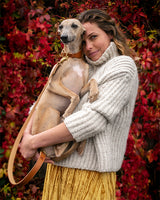 Barkened
BARKENED LUXURY LEATHER TWO-TONE DOG COLLAR
We wanted to design a hound collar that is pure luxury. So, we combined two complimentary colours of leather and created our two-tone, hand stitched dog collar that's beautiful whichever way you look at it and functional too. 
The materials we use
We use one of the best naturally tumbled vegetable tanned leathers available, the grain is not printed but individual to each item we craft. Each hide is treated with extracts of trunk and bark inside wood barrels and naturally coloured in a drum. It is super soft and becomes better over time.
We have carefully sourced our leather from a small consortium of Tuscan tanners who have a shared passion for the leather's quality and its impact on the environment.
Our leather does not contain any toxic substances – no azo-dyes, nickel, PCP or chrome.
Each collar is finished with quality, strong British made brass hardware that's been tumbled to create a matt finish.
How its made
All our leather goods are hand crafted using traditional leather making techniques in our workshop in Deal, Kent and with our partners in the South East of England.
This collar goes through many stages, we hand cut the two leathers and burnish the edges. They are then stitched together and the hardware riveted. We then finish them with natural wax and our Barkened stamp.
We loved this range so much that we have designed a matching hound collar, pooh bag holder and bags for owners.
Slow making 
We do keep a small number of items in stock and these will show as available on our website. As all our leather goods are made by hand, to enable us to craft on a manageable scale, ensure quality and minimise our waste you can then pre-order and these goods will be crafted each month. On ordering we will keep in touch throughout the process.
Colours
Available in 4 colours (Black & Nude, Olive & Nude, Cognac & Nude, Ortensia & Nude) 
Size
Please refer to our size guide. 
Care
Please take a look at our leather care guide for information.