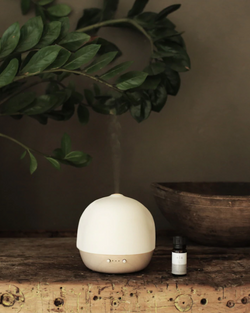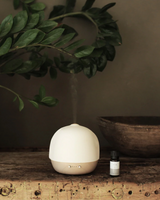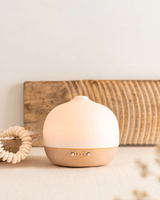 Elä Life
ELA LIFE ELECTRIC AROMATHERAPY DIFFUSER LAMP
We came across Elä Life, a gorgeous home aromatherapy and skincare brand created by Anna Schmidt. Everything looks as good as it functions and we've selected a small number of our favourite things. 
Their beautiful electric, ultrasonic diffuser is made from ceramic and wood. Designed to be a stylish addition to your home, it has a gentle light and soft glow while delivering the perfect amount of scent and moisture to the air.

With four mist time settings, you can choose how long your diffuser will release scent for: always on, 1 hour, 3 hours, or 8 hours. The diffuser will automatically shut off at the end of each time setting. It also has a light setting that gradually increases and decreases in cycles. With the addition of a sleep helper mode, the lamp timer function is designed to turn off gently after 30 minutes. It also has a handy night light setting independent of the Mist and Lamp switches. 
How to use
Place 5-10 drops of 100% essential oil blends to water in the small water tank inside the diffuser. 
Please expect to hear some gentle movement of water similar to a babbling brook, the water is agitated inside the diffuser to create a fine cool mist to disperse the essential oils and water vapour into your room.
We recommend never using synthetic fragrances or perfumes in this diffuser.
Only suitable for pure essential oils made using 100% natural ingredients. Follow the instructions provided inside the box before using.