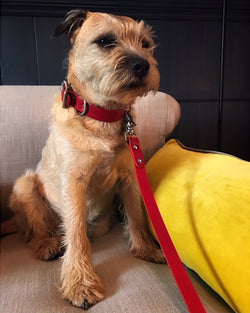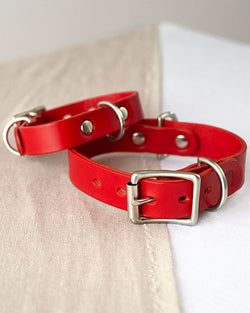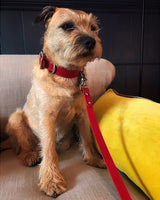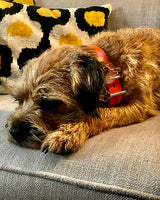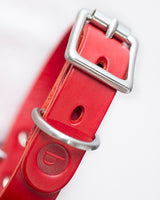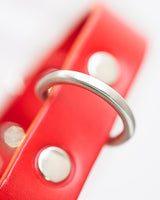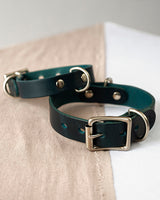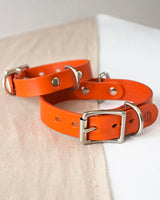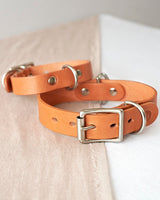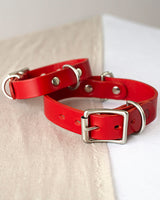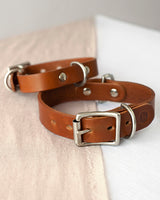 Barkened
BARKENED BUTTERO LEATHER DOG COLLAR
Our Buttero leather dog collar in 'COLOUR' is simple in design, understated, functional and made to last. An extra d-ring in the centre of the collar let's you choose where you would like to attach your dog's lead.  
The materials we use
Crafted using the world-famous Buttero leather - a 100% pure vegetable tanned traditional smooth leather known for its vibrant and traditional colours that become more intense over time and with daily use.
We have carefully sourced our leather from a small consortium of Tuscan tanners who have a shared passion for the leather's quality and its impact on the environment.
Our leather does not contain any toxic substances – no azo-dyes, nickel, PCP or chrome.
Each collar is finished with quality, strong British made brass hardware that's been tumbled to create a matt finish.
How its made
All our leather goods are hand crafted using traditional leather making techniques in our workshop in Deal, Kent and with our partners in the South East of England.
We hand cut, burnish and rivet our dog collars, finishing them with natural wax and our Barkened stamp.
Matching long-lead and standard leads available.
Please refer to our size chart for full details. Our collars are hand crafted if you need a size that isn't available, do please call us. 
Slow making 
We do keep a small number of items in stock. As all our leather goods are hand made, to enable us to craft on a manageable scale, ensure quality and minimise our waste, please allow up to 7-10 days for crafting before we post your Buttero collar to you. If you are in a rush let us know and we'll do our best to get it to you.
Sizes
x-small - 19cm - 27cm x 2cm
small - 24cm - 33cm x2cm
medium - 29cm - 38cm - available in 2cm or 2.5cm width
large - 35cm - 44cm - available in 2cm or 2.5cm width
x-large - 41cm-49cm - available in 2cm or 2.5cm width
Thickness 3mm
Please refer to our size chart for full details.
Care
Please take a look at our Leather Care page for details on how best to care for this item.