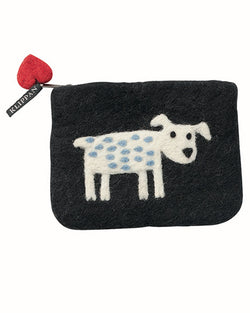 KLIPPAN
LITTLE FELTED WOOL DOG PURSE
We love the handmade, the unusual and all things dog.
This little felted purse in 100% hand-felted wool and is perfect for holding cards, change and notes. A great gift or a little treat for yourself. 
Made by Klippan. Founded in 1879 and still family owned. Their philosophy is to combine Swedish design with our long tradition of textile knowledge and ensure they only use natural and eco-materials in their products as much as possible.
Size: 14 x 10cm.

We also sell a little cat purse too.