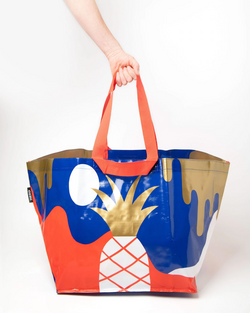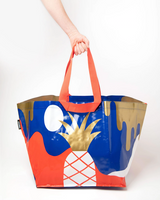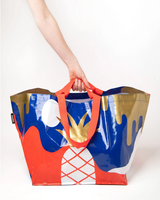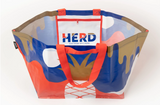 HERD
HERD LARGE TOTE BAG 'THE HOT PINA 100'
HERD designs stylish and hardworking bags for all people who need to carry stuff, for themselves or others - which is pretty much all of us.  HERD was started by the lovely Nancy Powell, after years of advising well known brands on sustainability, she decided to take everything she had learned about bags, recycling and brands to set up HERD. Nancy is mother of three young children and Chief Herder in her family.
The bags have a double handle made from 100% cotton webbing so they can comfortably be carried in the hand or over the shoulder and are 100% recycled content.

'The Pineapple' is both decorative and delicious and a symbol of all that is wondrous and exotic.  Slice it, dice it, drink it or carry it over your shoulder!
100% recycled plastic bottles | Strong & wipe-clean | Internal zip pocket | Double 100% cotton handles.
Dimensions: h35cm x w80cm