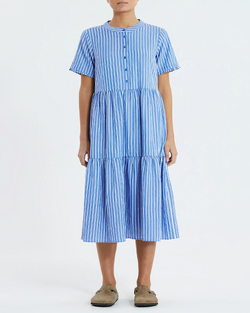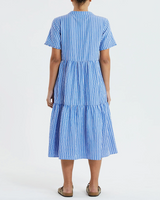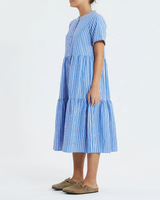 Lollys Laundry
LOLLYS LAUNDRY FIE BLUE DRESS
Bound to be your favourite midi length shirt dress, perfect for both everyday and events. Lolly's Laundry Fie dress has a round neckline with a front placket opening down to the chest and short sleeves with cute small frills. The dress cuts at the waist and is in maxi length. The skirt consists of three panels. The dress fits normal and should be a bit loose fitted.
Fabric: 100% Ecovero Viscose
Size: 
Small: Chest 96cm / Length 127cm
Medium: Chest 100 cm / Length 128 cm
Large: Chest 104 cm / Length 129 cm
Extra Large: Chest 108 cm / Length 130 cm
About Lollys Laundry
Kamilla Byriel is the woman behind Lollys Laundry. She is a renowed Danish designer, who has already left her mark on other Danish brands such as Bruuns Bazaar and Stella Nova. In 2007 Kamilla launched Lollys Laundry, where she creates the styles, that she loves - always with a focus on "Easy to wear with casual coolness" and quality fabrics.