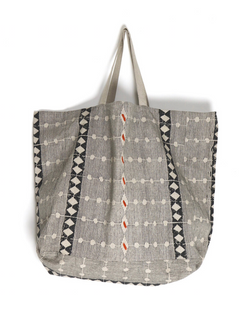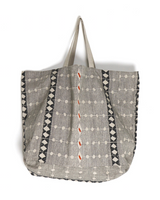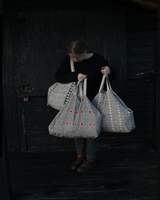 Louisa Loakes
LOUISA LOAKES LAUGH & HAIL BAG
The Laugh and Hail bag was hand block printed in India. The orange detail is all hand painted by Louisa in her studio in London.
The process - block printing is a technique that involves transferring designs and patterns onto fabric. A block is covered in dye this is then pressed onto the fabric - this can be then repeated over the entire surface of the fabric to create a pattern repeat.
The Material is a soft linen/cotton mix.
The Measurements: approx 50cm x 40cm.
Care: Hand Wash recommended.
Louisa has handmade us a selection of her bags and is joining us on 9th November 2020 to run a block print workshop - see our workshop section. We're very excited. 
About Louisa 
Louisa Loakes was formally trained at Wimbledon School of Art. She has a Fine Art Painting background. Her work can be seen in Liberty's and The New Craftsmen. She will share her love of contemporary pattern and colour with you.