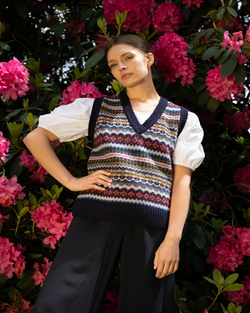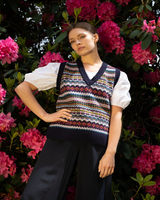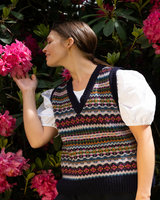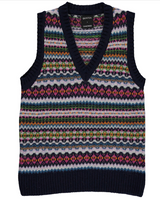 Quinton Chadwick
QUINTON CHADWICK FAIRISLE TANK IN NAVY WITH MULTI COLOURED PINK AND GREEN DETAILING
This 100% extra fine lambswool tank is a brand new design for this year. Using their traditional retro nordic patterns Quinton Chadwick have created a modern sleeveless V neck. 
It's a great tran-seasonal piece because its still super warm due to the great quality wool but not bulky. The sleeveless is very on trend and looks great over tees and shirts and under jackets. Can be sized up for a longer, looser look or take your normal size if you like a closer fit.
This navy colour-way is inspired by Rhododendron bushes in full bloom with their masses of exotic pink flowers and glossy dark green leaves. The patterning features a myriad of colours from pale teal through to aqua, leaf green , pink and even a hint of saffron orange. 
Sizes:
Small - chest 57.5 cms measured flat front only and 57.5 cms 
Medium - chest 49.5 cms measured flat length 60.5 cms
Large - chest 51.5 cms length 62.5 cms
Model is a size 8 and wears a small.
About Quinton Chadwick

Jess Quinton and Jane Chadwick use British mills for their yarn supplies, always 100% natural and biodegradable fibres. Mostly Lambswool or Merino and they also use Recycled Cashmere when it is available. They like to combine traditional knitting techniques with new technology to make a more sustainable product. Their seamless hats and cut edge scarves are cleverly designed to ensure there is zero yarn waste in the production process. 
Today QUINTON CHADWICK products are recognised for their unique colour combinations; their modern take on traditional patterns, the sustainability of their British production and the quality of their craftsmanship.