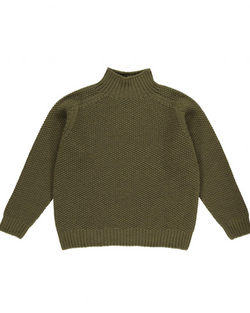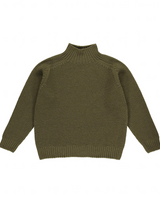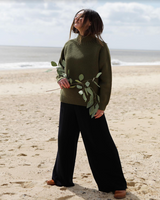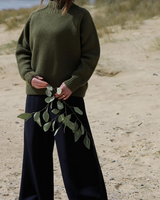 Quinton Chadwick
QUINTON CHADWICK MOSS STITCH CHUNKY SWEATER IN MOSS GREEN
We have managed to get a very small number of these 100% extra fine lambswool jumpers which are beautifully soft and lofty to the touch and very warm with its 6 ply chunky knit. The colour is a rich moss green colour.

It has a simple boxy fit with lovely textured moss stitch and shaping details on the shoulders.
The jumper is so soft and the yarn is of such great quality because it is spun and dyed in Scotland using water from the local Loch Leven which is known for its purity and softness, this water is then cleaned and returned ensuring the precious [wildlife brown salmon and pink footed geese ] are preserved in this beautiful RSPB nature reserve.
The yarn goes to the nearby small family run Mill that knits the sweaters one at time and hand finishes them, using traditional Scottish skills and patterns reinterpreted with our modern design and zero waste sustainable approach.
This attention to detail and time honoured craftsmanship will ensure the sweater lasts a lifetime and hopefully will be loved, kept and passed on like an heirloom.
Sizes: 
Small - chest 53 cms flat across front and 106 cms full circumference / length 56cms
Medium - chest 56 cms flat across front and 112 cms full circumference / length 58 cms
Large - chest 59 cms flat across front and 118 cms full circumference / length 60 cms
The model is a size 10 is wearing a Small.
Made in Scotland - 100% ultrafine lambswool.
About Quinton Chadwick

Jess Quinton and Jane Chadwick use British mills for their yarn supplies, always 100% natural and biodegradable fibres. Mostly Lambswool or Merino and they also use Recycled Cashmere when it is available. They like to combine traditional knitting techniques with new technology to make a more sustainable product. Their seamless hats and cut edge scarves are cleverly designed to ensure there is zero yarn waste in the production process. 
Today QUINTON CHADWICK products are recognised for their unique colour combinations; their modern take on traditional patterns, the sustainability of their British production and the quality of their craftsmanship.