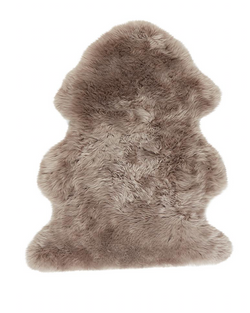 Shepherd of Sweden
SHEPHERD OF SWEDEN LINN LONGHAIRED SHEEPSKIN IN MUSHROOM
We spent a long time searching for good quality Sheepskin that would work for homes with and without dogs.

Shepherd of Sweden is inspired by nature, they are a family run firm who have been working with all things 'sheep' for over 70 years, making sheepskin goods to an exceptional standard and because they work out of their own factories in the UK and Europe, they are able to also ensure that everything is done in a socially responsible manner. 
Shepherd Lynn longhaired sheepskin is handcrafted as a whole single sheepskin, rather than lots of sheepskins sewn together. It can also be washed on a cool wool wash and naturally hung to dry making it perfect for a dog bed or on the sofa. 
Available in Rose Pink, Grey or Mushroom.
Size: 100cm x 60cm