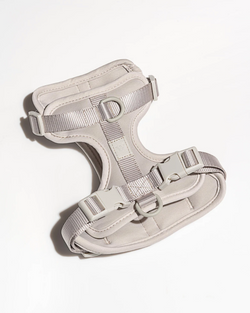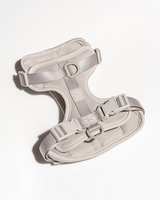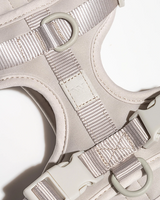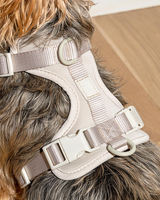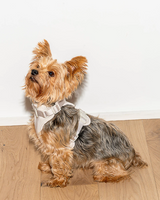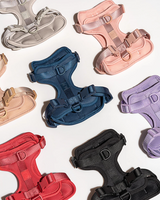 WILD ONE
WILD ONE CUSHIONED WOVEN HARNESS LIGHT GREY
After a super long wait Wild One has finally reached our shores and we are delighted. Their goods are really well made, simply designed, practical and last. 
This light grey soft, stretchy, cushioned, lightweight harness is simple to put on and secure. It has an adjustable neck and chest for all shapes and sizes. What's clever is it has three leash attachment points because all of us with dogs like to hold our lead and walk them in different ways. Probably the smartest harness i've seen. 
Soft-stretch poly base, woven nylon straps, coated carbon steel D-rings to match the colour of the harness 
Buckle fastening 
Cushioned, adjustable neck and check, three leash attachment points
Hand wash with warm water 
We have some in stock and another delivery due in the next 2 weeks. 
Sizes 
Small - chest size 14" - 22" / neck size 10" - 14"

Fit suitable for Cocker Spaniel, Jack Russell Terrier, Shih Tzu, Pug, Boston Terrier.
Medium - chest size 18" - 28" / neck size 12" - 18"
Fit suitable for Border Collie, Australian Shepherd, Beagle, French Bulldog, Corgi.
Large - chest size 24" - 38" / neck size 16" - 21"
Fit suitable for Golden Retriever, German Shepherd, Standard Poodle, Labrador Retriever.

Also available from Wild One 
Collars, leads, poop holders, toys.